Zenmuse XT: Unlock the Possibilities of Sight

Thermal imaging from the air has never been as easy as it is with the DJI Zenmuse XT. By combining DJI's unrivaled expertise in gimbal technology and image transmission with the industry leading thermal imaging technology of FLIR, the Zenmuse XT is the ultimate solution for rapid and reliable aerial thermal imaging. Capture faster, with pinpoint precision, over large areas, then save them for analysis and reporting.


INTEGRATED THERMAL CAMERA
The camera on the DJI Zenmuse XT is developed by FLIR. It provides high-sensitivity (50mK) thermal imaging at 640/30 fps or 336/30 fps depending on the camera model. This sensitivity provides accurate temperature measurements ideal for analytics and telemetry. Both cameras are available with four lens options to meet different business needs. Stabilized and controlled by a custom DJI gimbal, it provides smooth, clear imagery and 360 degrees of seamless rotational movement.
Thermal Imager
Uncooled VOx Microbolometer
FPA/Digital Video Display Formats
640 × 512
336 × 256
Pixel Pitch
17 μm
Full Frame Rates
30 Hz (NTSC)
25 Hz (PAL)
Exportable Frame Rates
<9Hz *
Sensitivity (NEdT)
<50 mK at f/1.0
Photo Formats
JPEG (8 bit) / TIFF (14 bit)
Video Format
MP4
Digital Zoom
2x, 4x, 8x
2x, 4x
Lens Options
7.5mm, 9mm, 13mm, 19mm
6.8mm, 9mm, 13mm, 19mm
APPLICATIONS
See the unseen. FLIR cameras reveal details invisible to the naked eye by making subtle differences in temperature visible. This new view on the world can reveal when equipment or buildings are damaged, the location of lost people and much more.
SEAMLESS INTEGRATION
Mounted to the Matrice 100, Matrice 200 Series, Matrice 600, or Inspire 1, the Zenmuse XT allows professionals to takeoff and capture detailed thermal aerial images in a matter of seconds.* Seamlessly integrated, the Zenmuse XT offers complete access to key DJI drone features such as a long-range video transmission, Intelligent Flight Modes, and customization through the DJI SDK.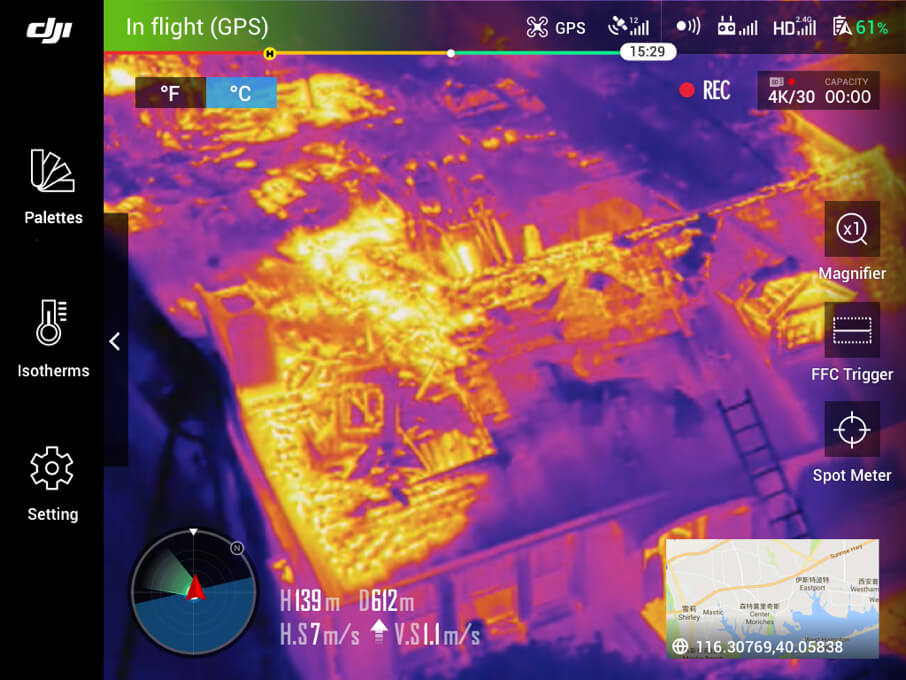 PURPOSE-BUILT APPLICATIONS
DJI XT Pro
Thermal Imaging Made Easy
Enhance your control of the Zenmuse XT thermal camera with the DJI XT Pro iOS app. Incorporating feedback from firefighters and industrial inspectors, the XT Pro app has a streamlined design that makes using the XT camera for critical missions simple and easy.• Real-time, low-latency camera view• On-screen temperature estimates• Quick access to color palette, isotherm and other settings
Compatible Drones
Matrice 100, Matrice 200, Matrice 600, Matrice 600 Pro, Inspire 1
Mission Profiles
Fire scouting, electrical inspections, search and rescue operations, solar panel inspections, building and roof inspections
IMAGE ENHANCEMENT SOFTWARE
Infra-red imagery requires optimization to ensure maximum definition for capturing information. The Zenmuse XT features a suite of image enhancements designed by FLIR including Digital Detail Enhancement™ (DDE); Smart Scene Optimization™ (SSO), which enhances extremes in bi-modal scenes; Active Contrast Enhancement™ (ACE) that adjusts scene contrast relative to its temperature difference; and Information Based HEQ™ (IBHEQ) which compresses complex image data to create the best quality image.