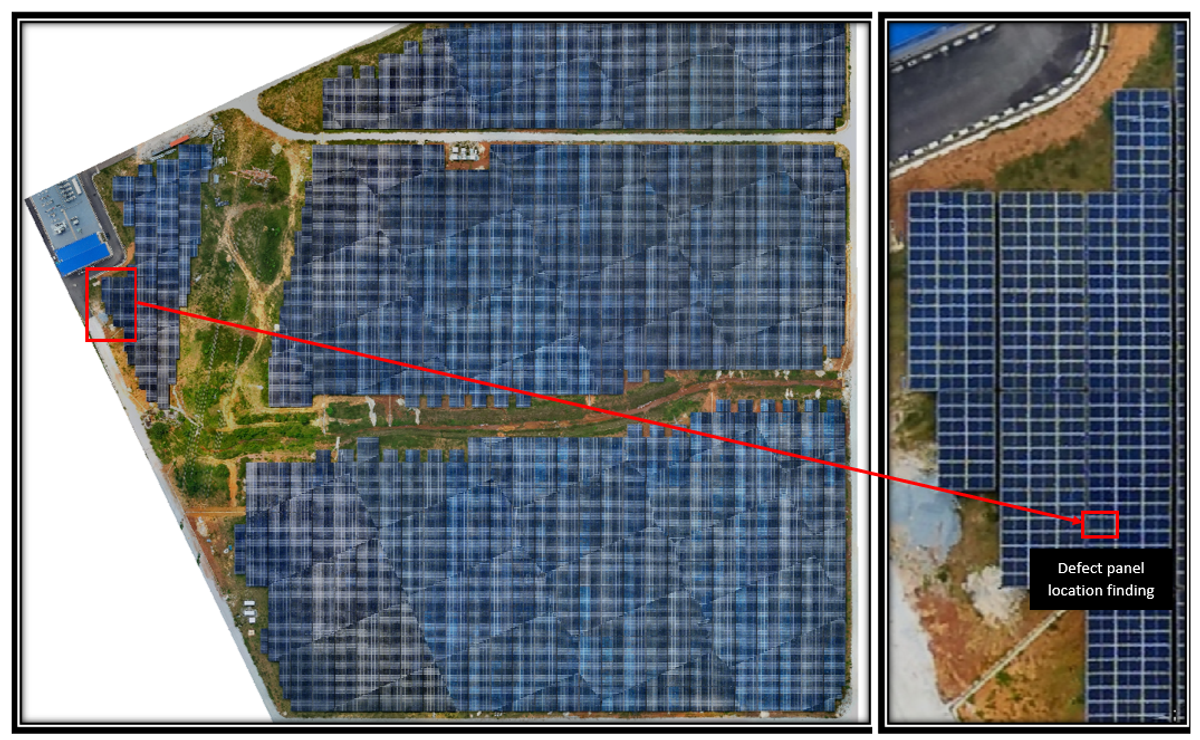 Three levels of Enterprise drone solution
No drone program or application is the same. Choosing the right equipment depends on a number of factors, including your environment, the scale of your operations, the type and quality of data you intend to collect, and of course the budget you're working with.
There are three DJI Enterprise drone platforms with thermal imaging capabilities:
The compact and quick-to-deploy Mavic 2 Enterprise Advanced (M2EA)

The powerful but portable Matrice 30 Series (M30T)

The heavy-duty and versatile Matrice 300 RTK (M300 RTK)
Let's get into the specifics.
Mavic 2 Enterprise Advanced
The Mavic 2 Enterprise Advanced is a portable and adaptable Enterprise platform that can be put to work at a moment's notice. The latest iteration offers multiple payload options, 31 minutes of flight time, and omnidirectional obstacle sensing. Powerful dual vision is enabled by a 48 MP camera with a 1/2" CMOS sensor and 32× Digital Zoom, alongside a 640×512 30Hz thermal sensor. The data collected by both is backed by an attachable RTK module, which enables precision positioning in real-time for accurate mapping when you need it most.
The foldable Mavic 2 Enterprise Advanced brings all of the above alongside the ability to rapidly deploy. Operators can set up and take off in under 60 seconds, while speedy maximum ascent and descent speeds of 6 m/s and 5 m/s respectively allow you to reach points of interest equally fast. Speaker and spotlight accessories add extra functionality should you need it.
Mavic 2 Enterprise Advanced is best viewed as a portable tool for rapid situational awareness. It's ideal for proof-of-concept pilots, early-stage drone programs, as a versatile aircraft to complement a broader fleet, and for teams that need an adaptable solution for various scenarios.
Matrice 30 Series (M30T)
The new M30T combines the portability of the M2EA with the sophisticated sensors and uncompromising durability of the M300. It's lightweight, easy to pack, and quick to deploy.
Our latest enterprise platform integrates multiple sensors into a single payload to bring unseen details to the fore and enhance situational awareness for your whole team. The M30 payload is made up of a 48MP 1/2" CMOS sensor zoom camera, a 12MP wide-angle camera that captures 4K video at 30 fps, and a laser rangefinder to provide accurate coordinates of objects up to 1,200m away. The M30T includes an additional 640×512 thermal imaging sensor.
In terms of performance, the foldable M30 offers 41 minutes of flight time, hot-swappable batteries, a service ceiling of 7,000m, and a top speed of 51mph. It's compatible with the new 7-inch widescreen DJI RC Plus and the latest FlightHub 2 application, which has a variety of features to enable real-time collaboration during missions.
The M30 is a powerful tool that's well-suited to a range of industrial applications thanks to flagship specifications and the durability to operate in challenging conditions. Thermal operations are enabled with the M30T upgrade, making the platform a fantastic addition to the fleets of public safety and inspection crews.
The M30T is the thermal version of the latest Enterprise drone. It combines ease of use with portability and power, making it ideal for early-stage or established drone programs in industrial inspections and public safety.
Matrice 300 RTK (M300 RTK)
The M300 is the flagship DJI Enterprise platform, offering unmatched power and performance in a rugged airframe built to withstand the elements and enable advanced operations. It has a 15km transmission range, 55 minutes of flight time, hot-swappable batteries, and a range of redundancy systems to keep missions on track. Safety and stability are supported by sensors on all six sides of the aircraft and an intuitive display that puts critical flight data at the pilot's fingertips.
Beyond industry-leading power and safety, the M300 allows for multiple payload configurations. Sensors within the DJI ecosystem, including the L1, P1, Zenmuse H20 series, Zenmuse XT S, Zenmuse XT2, and Zenmuse Z30, can all be used alongside third-party solutions developed using DJI's Payload SDK.
For night-time and low-light operations, the M300 can be paired with the H20T or H20N sensor payloads.
The M300 RTK is a rugged and adaptable platform with leading flight time, payload options, and safety capabilities. It's best suited for experienced teams and established drone programs. Compatibility with the H20N and H20T payloads makes this aircraft ideal for industrial inspections and public safety operations in low light or at night.
The Zenmuse H20T payload is a quad-sensor solution that puts advanced situational awareness at your fingertips. With a powerful 20 MP 23× Hybrid Optical Zoom camera with a 12 MP wide camera, a 640×512 px radiometric sensor, and a laser rangefinder, it's best suited for established drone programs carrying out public safety, security, or inspection applications.
All the specifications you need
Manual VS Drone Inspection
Although with the rise of solar panel inspections, diverse inspections are still manually executed, using handheld thermal cameras. Thermal cameras are popular because they can explicitly recognize any manufacturing defects, cracks, faulty components, faulty bypass-diodes, or even temporary shadowing on solar panels. Handheld monitoring is adequate; however, the approach can be made more efficient by fostering drone technology for solar farm inspections. By relying on drone imagery, users are guaranteed to have an enhanced quality of data, increased safety and time-efficiency. The following dimensions are why drones powered solutions are more reliable inspection methods than conventional/handheld procedures:
Increased efficiency -

Unmanned Aerial Vehicles (UAVs) acquire data almost 50x (times) quicker than other manual processes, making them extremely economical. Since solar farms are generally established on extended properties, drones furnished with thermal and RGB sensors can effectively cover more land to recognize defects than manual procedures. Thermal mapping and RGB sensors present a comprehensive outlook to businesses during solar plant inspections, which handheld mapping does not offer.

Improved Quality & Volume of Data -

Drone Technology is often backed with Artificial Intelligence and Machine Learning. Aerial inspections fulfill tasks precisely and don't overlook problems that manual processes might. The method of collecting drone imagery can be replicated every time required. Since drones cover more areas, advanced technology allows large quantities of information to be seized while maintaining the data's essence.

Avoiding dangerous working hours -

Drone inspections cater to a safer surveying and monitoring environment at solar farms. They overcome the necessity of having to endanger worker safety to fulfill maintenance operations.

Reduced costs -

UAV Technology assures that inspection costs, maintenance costs, equipment costs, and even potential shutdowns are lowered through the novel method. Conserving the quality of the asset, firms can secure the solar farm's productivity and energy output. With the combination of thermal mapping and RGB sensors, defects can be identified and resolved in their early stages.

Store, track & distribute data -

Drone data can be stored on guarded portals for future references and convenient, timely reporting. The data can be accessed through various devices for further interpretations whenever needed. Trends in the data can also be established for in-depth future decision making.
After all that has been mentioned, there are a lot of benefits that come with drone applications. It will be a better way to do inspection for many good reasons, especially comparing it to traditional inspection with human and hand held cameras. Drones are able to perform the task much faster and collect a larger amount of data in a shorter amount of time. This will help the business owner to save more money and time, having less man on the ground but sending a few drones out collecting data from the sky.
Drones technology has come a long way in order to achieve glory. It is fairly stable for work uses and application is not too complicated, pilots will not need a degree to operate the drone and perform inspection as stated.
Side by Side Thermal Imaging Comparison
Hotspot cause by crack defect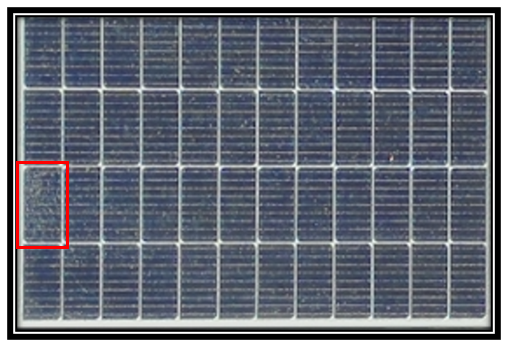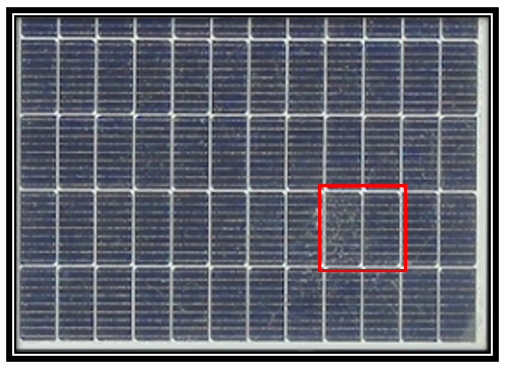 As we are able to see in the pictures, drones are able to cover a larger area in a much shorter time frame as compared to manual inspection done by humans. This is one of the benefits that we had discussed, covering a smaller solar plant in minutes is doable. The result will be extremely impactful, the industry can produce electricity with lower cost and prevent costly shut down due to solar panel malfunction.
To conclude the study, drones application will be the future for solar panel farm inspection. It saves the business owner a lot of trouble and gets the job done as quickly as possible. Manual inspection done by humans is hard to be kept for future reference but drones' can, the data will be easy to read and people without experience can understand.